Whether you want to play three times per week or three times per year, we have flexible options to suit you. Our monthly coaching payment plans are the cheapest and easiest way to pay, they also come with added extras such as a free half day on the kids camps during school holidays. You can cancel your payment plan at any time - we want you to stay because you're enjoying the sessions, not because of a contract! For pay and play options, please email us.
Frequently asked questions
What am I committing to when purchasing a plan?
---
No long-term commitments. Not ever. The idea of charging people money when they're not sure if they want to be a part of our programme sits very uncomfortably with us. We want players to stay with us because they love our sessions, not because we've tied them to a long term contract. Your monthly payment will auto-renew each month on the1st of the month.
---
What do the sessions look like?
---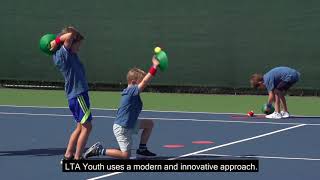 We follow the LTA curriculum and advice for both of our adult and junior sessions. Our main focus is to always make sure lots of balls are hit, there's lots of moving and everybody is enjoying it and making progress!
---
How do I get in to the tennis club?
---
Once you have booked, you will be sent a confirmation email with a PIN number to put in at the gate. Please don't share this with anybody outside of your booking.
---
What happens if the weather is too bad?
---
We rarely cancel sessions - but every now and again if it is particularly unpleasant or unsafe - we will notify you via text that the session isn't going to be on. To make up for the cancelled session, you can come to an alternative suitable session.
---
What do I need to bring/wear?
---
All equipment is provided but if you have your own racket, feel free to bring it. If you would like advice on buying a racket - please just let us know! Sportswear and trainers will be needed for the session and a bottle of water is recommended. In the colder months, we would certainly advise waterproofs and gloves!
---
I want to book more than one session and pay the cheaper rate - how do I do that?
---
When booking more than one session, go ahead and book all of the sessions you want. It will pop up with however many classes and subscriptions you have selected. After you have completed the booking, your lower price will be automatically adjusted for you. You won't pay the higher price.
---
I am an adult trying to book an adult session - how do I do that?
---
Our booking software is called 'Class 4 Kids' - so don't be alarmed if it asks you to add a child! Please just add yourself as a child and complete the booking that way. Oh to be young again...
---
---